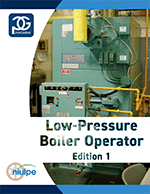 Low Pressure Boiler Operator - USCS
Low Pressure Boiler Operator
Edition 1
High Pressure Boiler Operator introduces the design of boilers and prepares learners for the operation and maintenance of low-pressure boiler equipment. Codes and standards in the design and construction of boilers, process checks and safety, and inspection are also covered, ensuring learners understand their role and are well equipped to ensure their safety when on-site.
Low Pressure Boiler Operator prepares learners for the corresponding NIULPE topic-based certification examination.
Please note that this product is published with United States customary (USCS) units of measurement.